CASE STUDY: SOCIAL MILLIONAIRE
DELIVERING An EPIC MOBILE CHRISTMAS
JAMAICA | DECEMBER 2015
An exciting campaign which visitors were challenged to take up multiple challenges to earn their spot at the top of the leaderboard and claim the ultimate Christmas present - $1 000 000 Dollars!
Objectives
Digicel Jamaica wanted to find a way to extend their 'Merry Millions' Christmas campaign to social media to engage and go viral.
Execution
At a time of economic hardship we wanted to (i) cheer up young people at Christmas and (ii) give them a chance to use their love of social media to win J$1million and become Jamaica's first "Social Millionaire!"
We built a mobile web application on the zero-rated (free for customers to use/no data cost) Digicel MORE community platform, for which Silverstone is a strategic partner. The site launched on December 1 that allowed people to enter daily content-based challenges which were completed on their favourite social networks and then uploaded to the application to earn points.
Thanks to Digicel MORE partnership we were able to communicate with players via SMS, sending notifications including them about their challenges; and to provide 'social proof', reward their points scoring at regular intervals with additional prizes of phone credit and smartphones. SMS and programmatic advertising also helped extend our reach online and on mobile.
Results
92,000 people talking about it on Facebook and generating 28,000 organic clicks from all social networks.
21,000 people registered, 13,100 people entered; and 58,000 challenges were completed.
1.1 million page views.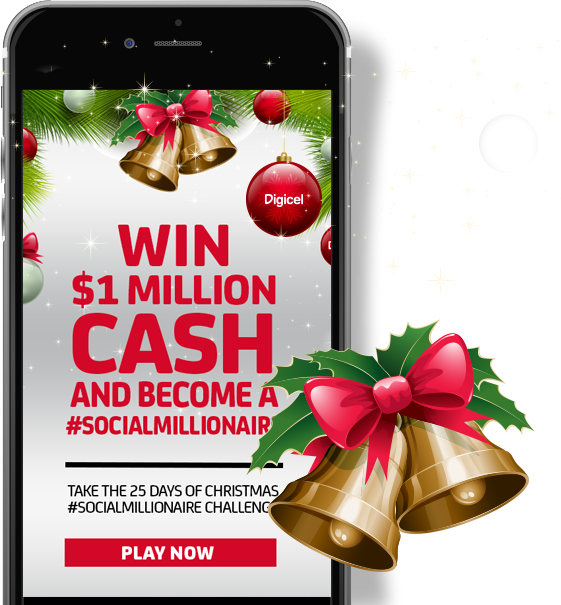 92,000
People talking about it on Facebook
21
K
Registrations & 58,000 challenges completed