CASE STUDY: Smirnoff WhatWeBring
BRINGING THE BRAND TO THE PEOPLE
JAMAICA, NoVEMBER to DECEMBER 2015
A successful campaign that allowed existing Digicel customers to watch to popular music videos for free on their mobile phones. Plus it incentivized them to share it to earn airtime credit.

Objectives
Smirnoff wanted to generate awareness about their new campaign and build a large community on the Digicel MORE platform – where customers can access exclusive new promotions and contests from local brands within the Caribbean.
Execution
Together with Digicel MORE, Silverstone developed 'Dimes', a loyalty currency for their clients in the Caribbean. 'Dimes' are a virtual currency that members can use to redeem for prizes and Digicel Airtime.
The partnership with Digicel allows brands to run their campaigns via the zero-rated Digicel MORE web platform (this means no data cost and is free for customers to use).
'Dimes' are redeemable for Digicel credit airtime, which are available to every client who runs a campaign with us, and they can be allocated to their customers as they choose. In the case of Smirnoff to drive unprecedented social sharing this was to reward customers with airtime for sharing the above the line campaign TVC to social media.
Simply, users were directed to the platform via an SMS mobile media campaign where they would sign up and then share the TVC to Facebook.
Results
Click throughs: 41,000+ from SMS campaign
Earned media clicks of 65,000 from social media and 25,000 click backs from the platform!
User registrations: 43,000
Credit redemptions: 38,000
Page views: 1,009,000
User sessions: 217,000
Social shares: 96,000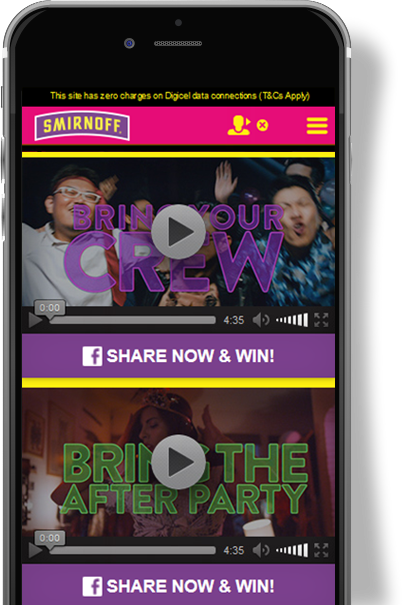 41,000
+
from SMS campaign
43,000
User registrations